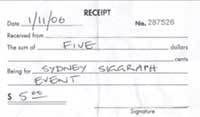 From the eMail:
"Members and guests are invited to meet with representatives from local VFX houses and training providers for a dialogue on everything from careers to courses. We will cover topics such as the production environment, how to produce your showreel, skills gap training and longer courses that are available in computer graphics in the Sydney region. This will be an open forum session where participants can ask questions of our panel. The panel will include representatives from Animal Logic, Fuel, InCase, AFTRS-Digital Media, UTS, CoFA, TAFE NSW and VISLAB. This will be a great opportunity for current students and graduates embarking on careers in the industry to find out what it takes to get a job.
Probably best known for the annual SIGGRAPH International conference on computer graphics for film, televisions and new media industries, ACM SIGGRAPH also puts on a variety of programs year-round and worldwide to benefit the SIGGRAPH community. The event listed above is hosted by our local chapter and is free for all chapter members."
Actually I had no idea what the hell SIGGRAPH was before I came. Heck, I didn't even know what to expect from it. I didn't even really plan to go when Steve, my 3D teacher 'advertise' it to the class. But then later, I thought, the hell, just go. See what the industry is like.
Most pathetic is I have not enough money for the$5 entrance fee. How pathetic. Someone should shoot me 5 times in the head. Spent 3 of my last $5 on lunch. Bill from CSU gave me $2. Thanks 🙂 I must have looked really pathetic back there.
Anyway, back to the event. It was interesting. People from the industry telling what they are looking for, how to get notice, etc. etc. Students asked questions and 'complained' on the industry. Interesting. I was expecting it to be longer. At least 3h or something.
…I would not have gone if they tell us earlier that we are going to do introduce ourselves :S